Travelling Asia - description of our route

We started the journey with a flight from Amsterdam to Moscow. There we took the Trans-Mongolia Express (a variant of the Trans Siberia Express) through Siberia and Mongolia to Beijing, China where we arrived after 6 days of continuous train-travelling. We travelled (with some difficulty, some places where only quite recently opened to tourists) for a few weks through China: from Beijing another day and a half by train to the village of Yangshuo,(near Guilin) and later on by bus and river-boat to Canton (Guangzhou) and finally by plane to the small seaside town of Xiamen.
After a few days there we took a night-boat to the surprising and fascinating city of Hong Kong, where we stayed for a week and a half and (amongst many other things we did) bought airplane-tickets to Singapore. From there we travelled north by local buses slowly along the eastern Coast of Malaysia, staying in several of the villages. In the meantime the monsoon had started. When life at the east coast got too wet we went on to the multi-cultural town of Penang, at the western coast of Malaysia.
From Penang we went by minibus (and boat of course) to the coconut-island of Koh Samui in the very south of Thailand. By now it was december and we thought we earned a break from all the travelling. So we had our Christmas-holiday on the beaches beneath the coconut trees, lazing, reading and planning the rest of our journey.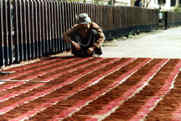 A night in the train took us to Bangkok, just before the New Year, there we had a lot of ticketoffices and embassies to visit and papers to fill to get visa and booking flights in and out of Burma , India and Nepal. We stayed in Bangkok for nearly two weeks, a little longer then we had ment to because we coulkd not get on an earlier flight to Burma.
In Burma it was not allowed to stay longer then a week on a touristvisa. We had a wonderful week though, in Burma's capital, Rangoon, with it's marvellous Shwedagon Pagoda and in the antique and impressing temple-area of Pagan, in the centre of Burma.
With the famous Biman Bangladesh we flew from Rangoon to Calcutta in India. We had to spend one night in Dacca, Bangladesh. After spending some time in Calcutta (very worthwhile) we went by another train, the Coromandel Express, to Madras from where we travelled by more trains, buses and a boat through the south of India: Tanjore, Madurai, Quilon, Aleppy, Cochin to end in Mysore and Bangalore. In Mysore we bought the flight-ticktees to our next destination, Udaipur and also return tickets New Delhi - Kathmandu and for the last leg of our journey from New-Delhi to London.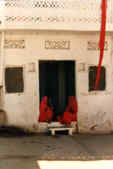 But first we took our time in colourful Rahjastan in the north of India. For the first time in months it was cold enough again at night to sleep under blankets and appreciate hot showers. By way of Udaipur, Pushkar, Jaipur, Bharatpur and Agra and still more trains and buses (no boats) we finally arrived in New Delhi. From there we went by plane to Kathmandu in Nepal, our final destination. We stayed there for nearly two weeks, but because I fell ill we hardly went beyond the town itself. I just was well enough to travel when were due to fly back to New Delhi (where we slept one more night, in the filthiest hotel of the whole journey) and on to London. In London we bought air-tickets to Amsterdam right away, so we arrived a little later the same day in Amsterdam and finally Groningen.